Office Edit: Best Linen Shirts To Create Flawless Workwear Looks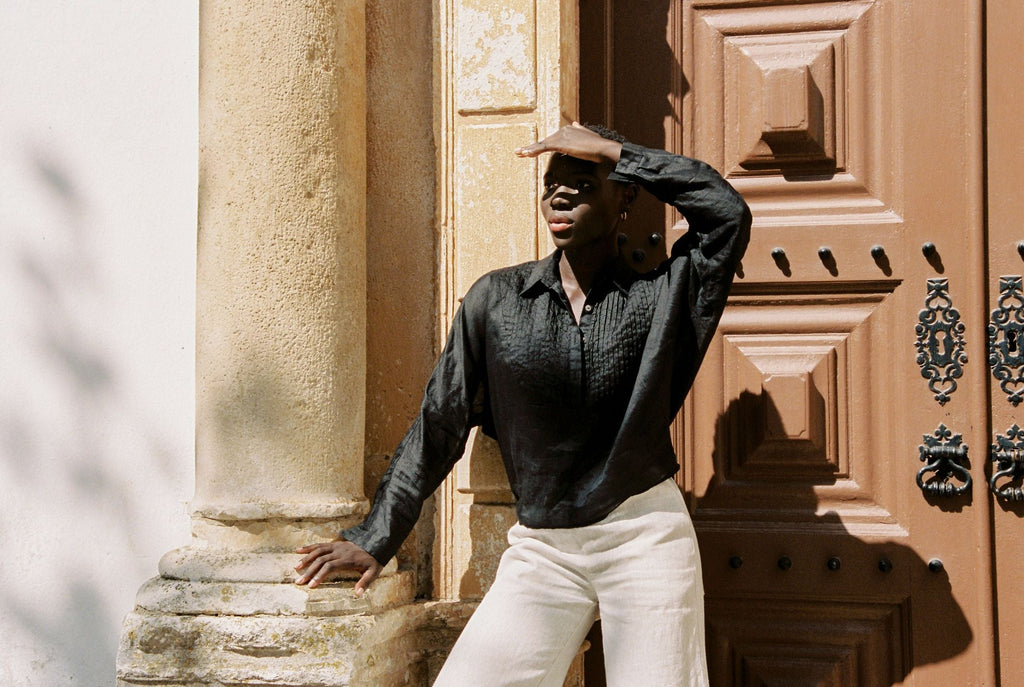 Discover the best linen shirts for work. They play well with the other pieces in your wardrobe and are guaranteed to make a professional statement.
This is our 9-5 dressing survival guide. Or 24/7 working non-stop (thanks email!) life.
No more mad rush to get ready every morning, where you can't seem to find one piece of clean clothing in the house. Let alone a whole outfit. Or hurrying to be on time because you've decided everything in your wardrobe looks ugly. Been there, done that and don't want to repeat.
These are our best linen tops that will create immaculate looks for the office. So all you have to worry about doing is your work — easy.
Relaxed Linen Shirt
No workwear line-up is complete without a clean linen button-down shirt, one of the best linen shirts available. It's really the hardest worker in the office, after you, of course.

For a brighter update on the timeless design, try our linen shirt in a khaki green. It says you're sophisticated, ambitious and never miss a deadline. Plus, the unique colourway will make you stand out in the sea of blacks, whites and greys all over the workplace.

Find out what colours go with sage green clothing to ensure you're always making the right impression in the office.

How to style it? Wide leg linen pants are so breezy and easy that all your office troubles will melt away. Forgot to save your work? Spill coffee all over your desk? At least you'll look fabulous while cleaning up the mess with pants that are ideal for professional settings and seamlessly transition you from the cooler months into summer.

Ribbed Fitted Top
Dressing to impress doesn't mean you have to be uncomfortable or fork out half your salary on a new outfit. Sleek fitted tops, when styled correctly, can also wow.
Form-fitting and fuss-free, a fitted top makes you look like you're on top of your to-list and ready to meet new clients. Ours features ribbing for extra texture and interest. Tuck it into tailored linen trousers with a belt to smarten up the look.
Layer your ribbed linen top with a collarless jacket, a la Chanel and wait for a promotion. It's a combo that demands respect. The cropped design of the jacket calls for high-waisted bottoms and serious confidence.
Elegant White Linen Top
Up all night finishing a report? This white linen top will give an extra pep to your step and exudes professionalism through every stitch and seam. 
As flawless as we wish our skin looked after a 10-step skincare routine, our white linen top is immaculately cut, minimal and finished with tortoiseshell buttons.
The ultimate office accessory? A vintage watch that's quietly classy. Plus, it lets your boss know you'll never show up to a meeting late. Perfect for dressing up your bare arms when you're wearing short sleeved tops.
Look utterly polished and ready for a Forbes cover shoot — you never know when that might happen — by pairing your linen top with a cream-coloured midi skirt and pumps. You can go for a fitted straight-line silhouette or opt for a silk a-line midi to nail office dressing.
Can't part with your trousers? Check out our blog on how to wear linen pants for work and always look smart at the office. 
Linen Vest
Ready to dazzle? A matching suit set will impress without any stress on your part. Wearing it is as easy as relaxing in a freshly laundered bed before the sun sets.
Tackle the suiting trend like a true fashion pro with our linen vest. For the warmer months, wear it on its own with matching tailored trousers. Or when the temperatures drop, transform it into a three-piece with a black blazer and black linen pants.
Add some extra spunk by styling with pointed leather boots. Or tie a silk scarf around your neck to soften the all-black look and create an original outfit no one else will be wearing.
Workwear Lifesavers
Professional aesthetic
You'll usually be office-approved by dressing at least 50% formal. A crisp linen shirt is always polished and gives you the freedom to go a little more low-key on the bottom. You can pair yours with white coloured denims and black jeans to get the tick of approval for even the strictest of office dress codes. 
Neutral colour palette
You absolutely cannot lose with black and white workwear outfits. These always say you're professional, put-together and know what you're doing. But also, don't be scared of pops of colour. Those extra bursts of fun can help drag you into the office, even if you'd rather take the day off. 
A crisp white button-down shirt is a must
Versatile and classic, this one of the best linen shirts to add to your collection. A clean white linen shirt seamlessly matches almost any outfit and adds a professional feeling to even the most casual of bottoms. It pays to go with shirts in natural fabrics for extra breathability and longevity. 
Comfort is key 
You have to look at least somewhat presentable in your office uniform for about 8 hours a day. Throw in commuting and dealing with stressful meetings, and you'll want to make sure you're comfortable. Shoes should fit well, and nothing should be too tight or restrictive. Try new outfits on the night before so there aren't any surprises when you get to the office.
A shirt dress is a winner
This one's for those mornings when you're brain still hasn't turned on after the 2nd cup of coffee. A shirt dress is the perfect office-appropriate length and looks all things fashionable and modern. The best part? No thinking is involved. All you have to do is pair with heels or loafers, and you're ready to be out the door. 
Have fun with the accessories
Lighten up when styling your workwear outfits with funky statement pieces that reflect your personality and make you feel more like yourself. Accessories are also an easy way to make casual looks office-ready. For example, throwing on a pair of heels or knee-high boots with linen capri pants instantly creates a more put-together look.
Loafers are your best friend
They'll make your feet look ultra stylish, all with the comfort of a sneaker. Plus, they're everywhere at the moment. Celebrities, it girls and the fashion crowd are all whizzing around the cities in a pair of loafers. 
Keep a chic cardigan at your desk
The ACs at work are as hard to predict as the Instagram algorithm. Who knows what's going on. Sometimes, it's freezing, and the next minute, the office has turned into a tropical jungle. Always be prepared to layer by keeping a neutral-coloured cardigan or linen button-down at your desk, just in case.
Why Is Linen A Superstar In The Office?
 1. thermo-regulating
Linen's really wonderful. If it's warm, linen keeps you cool. And when it's cold, linen helps you warm up. Sounds perfect for the office.
 2. sweat-wicking:
Who's got time to have a midday shower? But with the long hours and crazy deadlines in a work day, sometimes one would be lovely. Linen is sweat-wicking and the coolest fabric around. It naturally draws moisture and sweat away from the skin, keeping you fresh however life tries to bring you down. Stuck in traffic and late for work? You'll stay cool in a linen shirt.
 3. symbol of luxury
The office uniform is pared-back and minimalistic, so there's nowhere for a poor fabric to hide. There's something more magical about the way natural materials drape on the body. Well-cut pieces in the finest linen will always look better than synthetics. 
Conclusion: Best Linen Shirts To Create Flawless Workwear Looks
These are the best linen shirts to make an impression at the workplace and look your most confident, business savvy and professional. First, you'll dazzle everyone with your office uniform, then with your creativity and ideas.
These are the secrets to remember when styling your linen shirts for a business environment:
Natural fabrics are superior: it's almost like linen was designed, especially with long office days in mind. Not just soft and comfortable, it will keep you fresher for longer thanks to its sweat-wicking and breathable properties.
A white button-down is a classic: on those busy days when there' no time to think, going for the classics makes everything easier. A freshly ironed white linen shirt transforms almost any bottoms into a work-ready outfit in seconds. Plus, the outfit combinations from one shirt are endless.
Neutral colours rule: blacks, whites, and soft neutrals are classics for a reason and should go-tos for the office. Build your wardrobe with most of these colours. Then, add pops of colour and personality with a few bright pieces that match seamlessly with neutrals.
Let polished accessories help you: often overlooked, accessories can make or break the feeling of an outfit. Tucking a linen shirt into trousers and adding a belt is an inexpensive way to smarten up a look. Or add dainty gold jewellery and a slicked-backed bun to crisp white linens, and you'll instantly boost the professional feel of an outfit.