Q&A with Pepe Arcos of @pepearcos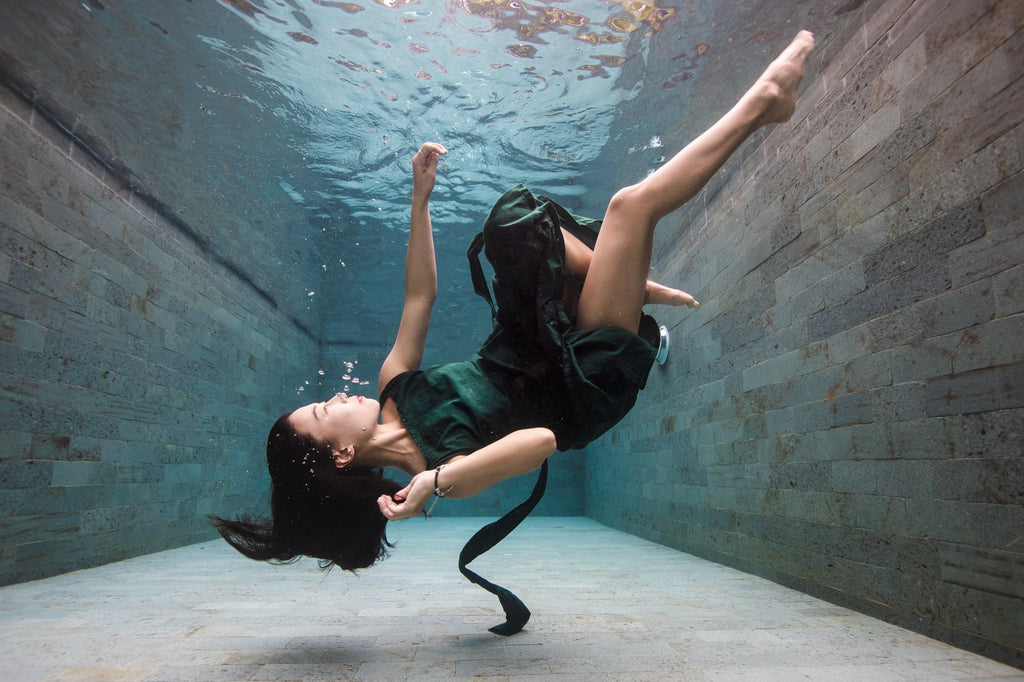 Wo[men] in LUXMII 
This month we're excited to introduce you to Pepe Arcos. He's a multi-talented creative with an inspiring resume.
A former national champion in freediving, he's now an underwater fashion photographer and award-winning filmmaker.
Pepe Arcos | Underwater camera gear set up for a shoot | Lanzarote Island, Spain 
His work is utterly unique, and whilst he's not a LUXMII woman, we'd love to make him an honorary member.
He's also the man behind the lens of the LUXMII lookbook campaigns, so he knows his fashion.
Luxmii Campaign | Athena Top | Location: Taipei, Taiwan 
Pepe Arcos dives deep into the ocean with his camera where few have gone, capturing the secrets & wonders of life under the water.
His work requires him to hold his breath underwater for many minutes at a time to capture the perfect image.
Yet his photographs give no glimpse of the strenuous behind-the-scenes. Instead, they are poetic, spontaneous and emotive pieces of fine art.
To fall in love with his work (as we have!) check out his Instagram @pepearcos
Let's explore his rare & exciting world further…

 Underwater model & Actress Tiff Shueh in the Farfalla Linen Midi Dress in Forest  | Location: Bali, Indonesia 
The ocean seems integral to your work. Where does your love for the ocean come from?
To chase the true adventure of all time: discover and document what's beneath the waves of our Blue Planet. 
 Humpback whale off the coast of Tahiti | Location: French Polynesia 
How did you start freediving?
Probably when I was 8 years old without me knowing that I was freediving. I remember my friend's parents took us snorkelling in Tarragona, Spain, and I could easily reach the sandy bottom and stay there for a little while.
The calm feeling of freedom and silence, plus being fully submerged in nature, kicked off a big passion.
Many years later, after starting scuba diving, I found out freediving was a sport and decided to take a course.
That changed my life completely. I became the Spanish National Champion and ranked 6th in the world for a couple of years.
Japanese athlete competing in the Depth Championship | Location: Sabang, Sumatra
Even the thought of freediving is terrifying to most people — how do you conquer fear?
Freediving is all about relaxation and deep focus, some describe it as a meditation, but there is no room for fear in this sport.
Once you understand that the only thing that can stop you is your mind then you address those fears and learn how to switch off that part of your brain to fully release and let yourself flow deep into the ocean.
UN Clean seas campaign to raise awareness on plastic pollution | Location: Bali, Indonesia
How do you inspire yourself creatively?
I guess my main mojo is to be a DOER. Creativity comes from working, not waiting.
It's a process of observation and execution, so it involves getting yourself into doing many things, one idea leads to another, and like this, a project can bloom.
Underwater model & Actress Tiff Shueh in the Farfalla Linen Midi Dress in Forest  | Location: Bali, Indonesia 
You're the photographer of the LUXMII lookbooks — what do you love about LUXMII?
LUXMII's timeless concept of fashion. The unique, elegant & feminine minimalism of the collections with that boho touch.
Luxmii Campaign | Shooting the Safari Wrap Dress | Location: Bali, Indonesia
You're an extreme sportsman, yet you're

 

photographs exude an ethereal calm. Do you do anything special to keep peace & calm in your life?
I believe it is not about me being calm but the subject itself. Wallace J.Nichols wrote in his book Blue Mind that "being near, in, on, or underwater can make you happier, healthier, more connected, and better at what you do."
I guess my main effort is to try to capture those moments of peace and flow that happen in front of my lenses.
Rescued dolphins recovering at Dolphin Project | Location: Bali, Indonesia
Favourite shoot/story to date?
My participation in the Dolphin Project.
Favourite photographer?
I am totally in love with Zhong Li and her 365 project.
Freediving & Photographing the first Underwater museum in Europe | Lanzarote Island, Spain
Favourite movie?
2001: A Space Odyssey. 
An item you can't live without?
Obviously, it has to be a camera.
Your favourite meal to cook?
Artichokes!
Pepe Arcos | In action for a fashion shoot | Location: Bali, Indonesia
Your favourite comfort food of all time?
Can it be a weird one? Turnip cakes from Taiwan — sooooo yummy.
What are you reading right now?
Trigger Warning by Neil Gaiman.
What advice would you give to your younger self?
Remember how important it is to surround yourself with inspirational people.
Luxmii Campaign | Shooting the Safari Wrap Dress | Location: Bali, Indonesia
Thank you, Pepe. What a mesmerising journey you've taken us on.
We'll be back next month with another inspiring Q&A.
x
---
To see Pepe Arcos' portfolio of work visit: https://www.pepearcos.com/

Watch his award-winning short film, PRESSURE here: PRESSURE