Consistent Classics: How To Wear A Linen Shirt Like A Style Master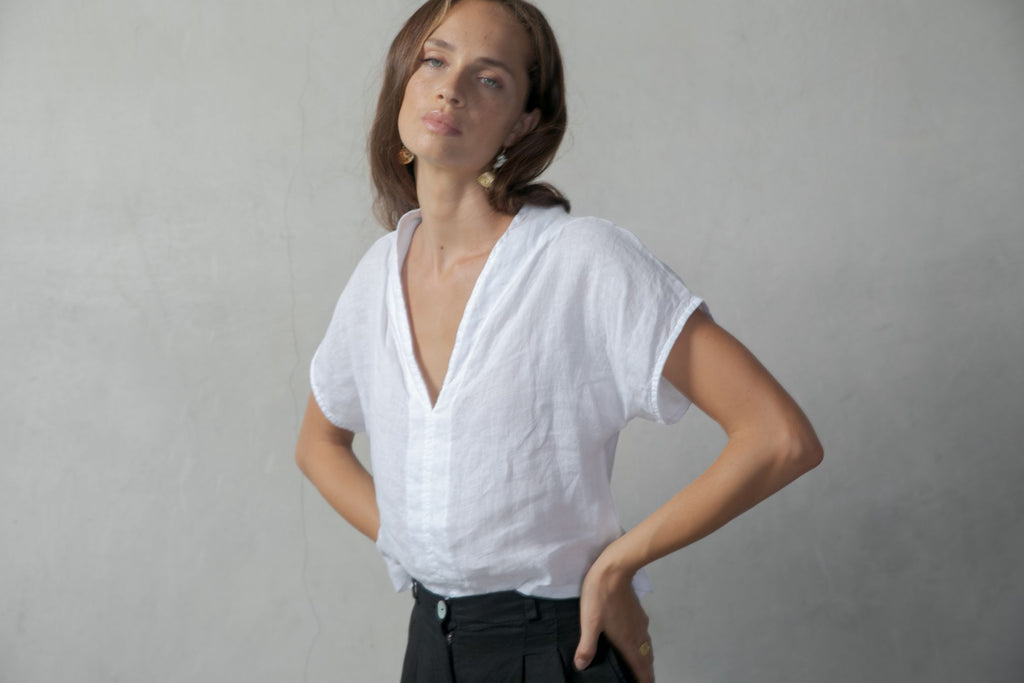 Find out how to wear a linen shirt so gorgeously that you'll never run out of outfit ideas again.
Why are you always in a rush to get ready?
It's not the fact you forgot where you put your phone when you've always got it on you. Fine, that may be the problem, but if it's not that, then it's this….
You've rushed down the hallway and glanced at yourself in the mirror. Your outfit isn't right, so you've decided to change, again. Even though you were already supposed to be at lunch 10 minutes ago. Should you invent a time machine?
There is a hero in this hypothetical (we wish!) story — the never-lets-you-down, classic linen shirt. We're not exaggerating when we say it's a wardrobe essential.
A linen shirt is just as soft and versatile as a fluffy dressing gown — it's hard to part with ours every morning — but infinitely more fashionable and modern.
Plus, it's something you'll happily answer the door in. That's why we're dedicating our whole blog to the linen shirt, all things timeless, minimal and elevated.
We'll talk about how to wear the linen shirt in all its different iterations and share stunning yet simple outfit ideas that we suggest you gently sear into your subconscious. Let's get into it.
When should you unbutton a linen shirt?
Style rules are made to be unbuttoned — is that how that quote goes? So wear your linen shirts however you like, whenever you like. On that note, though, here are some solid ideas:
Midi dress + Unbuttoned linen shirt — This combo is a mainstay for a reason. It's easy, breezy and oh so trans-seasonal. The linen button-down acts like a lightweight jacket. Super-soft, it keeps your arms covered and gives hefty doses of versatility. Perfect for anything casual and fun on the schedule. Picnics, outdoor lunches and days out that lead to nights.
Simple ribbed singlet top + unbuttoned linen shirt — Got nonchalant cool on your wish list? Go with a linen shirt in the same colour as a ribbed singlet for a streamlined, elegant look. Team yours with jeans or wide-leg pants for a fashionable off-duty style that's ideal for school runs and casual Fridays at the office.
Word on the street is that some of our best designs are hiding on our website. See more of our linen tops for an instant wardrobe upgrade.
When can you tuck in a linen shirt?
The short answer: when you want to show off your waist and look more dressy. 
The long answer: to balance out the proportions of your outfit. Especially when you have a linen shirt in a relaxed oversized fit, wearing it tucked in gives your outfits more shape and structure. That's not all. Tucking in a linen shirt is an instant way to class up an outfit, and all the French women do it – as if you need any more proof. Tuck in a linen shirt with wide-leg, high-waisted pants to create a flattering, elongated silhouette and give yourself a statuesque look – well, a statue that can move, is alive and isn't made of marble.
OUTFITS: How To Wear A Linen Shirt Whatever The Day
Stunning For Everyday: The Classic Linen Button-Down
A linen button-down is a classic. Welcome to our version, the Il Ragazzo Relaxed Linen Shirt — versatility is her superpower. Look for a relaxed fit and lightweight quality fabric when on the hunt for your next linen button-down. Make it black for the cooler months and white for the summer if you have to choose just one. 
Here are a few winning ways to style it. We could go and on (hello versatility!), but there's no time. We all have shows to catch up on. Create a tonal outfit by tucking it into a black linen trouser for a polished, put-together look. No stress included only admiration from strangers.
Or leave it loose over your most trusted pair of jeans. Straight leg or cropped styles will look stunning and balance out the relaxed fit of the shirt. So timeless and confidence-boosting, wearing it feels like an act of self-care.
Stunning For Play: The Feminine Linen Blouse
A better feeling than being in bed by 9 pm? It's hard to beat, but a lavishly soft feminine linen blouse that gives you that holiday feeling comes close. Our Akadamia White Linen Top is pure sweetness with its butterfly sleeves and breezy oversized fit. It goes perfectly with a chilled cocktail.
Style a floaty linen blouse with equally free-flowing palazzo pants and look stunning. Or be inspired by the latest trends and rock a straight-shaped midi skirt. If your linen top is white, go with a neutral-coloured midi that's fitted to the body and balances out the airy shape of the blouse.
All that's left is to turn off your notifications, and you'll be in heaven. Just don't forget your barely-there sandals or ballet flats.
Stunning Workwear: The Relaxed Linen Shirt
The hardest worker in the office? (after you, of course) A stunning linen shirt. You can slip it on over tailored trousers, pencil skirts or wide-leg linen pants and instantly radiate professionalism. 
Go for a thicker, tighter weave to get extra structure from your linen shirt. Then simply add a collar, button-down front and classic style that screams "sophisticated workwear".
In a gorgeous green, our Alix Relaxed Linen Shirt will stun at both the office and after-work drinks. We won't believe you if you don't get a raise while wearing it. Enhance the linen shirt with gold jewellery and pumps or loafers. 
Now that you've found your new forever linen shirt see our blog on ironing tips and tricks to guarantee a crisp look every time.
Frequently Asked Questions
Can my linen shirt work for the cooler weather?
Yes, a linen shirt works during the cooler months as well. Unlike us, who are bundled up under the covers, praying for sunshine and avoiding all responsibilities. Linen is a temperature-regulating wonder fabric that keeps you cool in the summer and warm in the winter. We're still waiting on beds that do the same thing to hit the market.
Linen shirts come in a wide variety of thicknesses. For trans-seasonal pieces, go for a thicker, heavier fabric that provides more warmth than typical linen tops.
Getting the most wear out of any clothing is all about layering. Visit our blog on how to wear linen in winter for all the styling tips so you never have to part with your favourite linens.
Can I wear linen shirts as formal business attire?
You can do anything you set your mind to, darling. For linen shirts that exude an air of intimidating professionalism, opt for a tightly woven fabric. What does a tight weave do? It creates a silky smooth finish that's stiff and holds its shape better than a looser weave.
For those that love a super-crisp look choose shirts made from a linen cotton blend. The added touch of cotton will give an extra smooth look. Wear a freshly pressed linen shirt underneath a blazer and impress at your next meeting. Or tuck it into smart dressy trousers with a belt and rule the boardroom.
Can I machine wash my linen shirt?
From the outside, a linen shirt may seem expensive and high maintenance, but she actually wants to make your life easy. Pop her in the washing machine without any worries. Just make sure to keep the temperature no higher than 30C and choose a gentle spin cycle. For the full lowdown, see our blog on how to wash linen.
Conclusion: How To Wear A Linen Shirt
The versatility of a linen shirt is so endless that by the end of this blog, you'll be wondering to yourself, do I even need any other piece of clothing? Society and your heart say yes, and your bank account is the proof. But hyperbole aside, the linen shirt really is a staple piece of every women's collection. 
To get the most wear out of it, here are our top ideas on how to wear a linen shirt that will guarantee a winning look every time. Only read on if you want to look fabulous.
Relaxed linen shirt + trousers — if there's only room for one linen shirt in your closet, make it a linen boyfriend shirt with its loose fit and timeless button-down style. Wear it tucked into tailored trousers for a more refined aesthetic. Or loose over a beloved pair of denim.
Oversized linen blouse + midi skirt — when you're in the mood for a feminine outfit, go with a linen blouse. Extra points for soft pleating or puffed sleeves. Pair the cropped top with a midi skirt to elongate the body and balance out the breezy fit of the blouse. Keep to neutral colours for a fresh, seamless look.
Crisp linen button-down + dressy pants — a structured and collared linen button-down is the simple answer to elevated workwear. Pair it with dressy pants or a pencil skirt for a go-to office look. Elevate it with dainty jewellery.