How To Wear Linen In Winter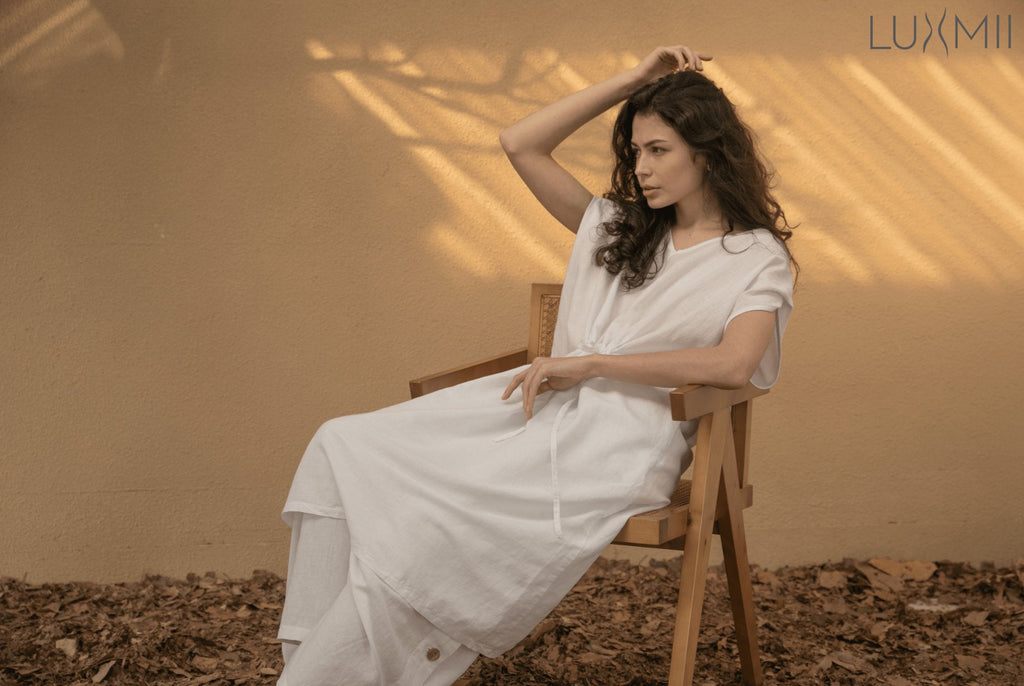 Wearing linen clothing in the colder months... can it be done!? We think so! 
Celebrated for its breathability and lightness, quality linen is the perfect pairing with a hot summer day. It's a signature style during the warmer months. Yet, can we also dress in this beloved fabric in the wintertime?
Most definitely yes. With a few simple styling tips we'll show you how to wear linen in winter. It works very well. And in case you're still hesitant, here are a few more reasons to give wearing
linen in winter "a go".
Positives To Wearing Linen In Winter
Linen is a special type of natural fibre that keeps the wearer both warm and
cool — one of the few natural fibres with this property.
a natural insulator, linen will retain your body's heat, keeping you warm.
it can also release any excess humidity, unlike cashmere, cotton and wool, which provide warmth but can also make you sweat.
When you've invested in a linen piece, expertly crafted and made from natural fibres, the hope is that the money spent will lead to value and versatility. It's possible to wear linen all year round — the key is in the styling. Especially in the types of winters that Australia encounters, this is easily achievable.
For those exuding bohemian spirit in their fashion style, parting with your favourite linen pieces during the winter months can be difficult. Though, with some simple alterations to your way of dressing, the laidback, effortless elegance that linen evokes can be carried through to your winter wardrobe.

As the dreariness of winter drags on, and the wishes for the warmth of the sun, not seen for so long, rises — evoke summer vibes by going back to your trusted summer linens and dressing in them. Whilst outside, the day may be cloudy and gloomy, yet donning your favourite linen jumpsuit will instantly transport you back to the summertime.

Viewed predominantly as only suitable for the summer, hopefully, we've shown the multiple benefits of wearing linen in winter. To make it work for you, we'll share our simple styling advice.
Tips for Elegant Layering
Layering different pieces of clothing together is a tried and tested styling method to enhance the warmth of your outfits. However, to achieve a classic look that works seamlessly as a whole, there are a few tips to keep in mind.
Tonal layering is a simple way to ensure you always look elegant and fashionable. It's very on-trend, and there's no risk of appearing garish with clashing colours that don't combine harmoniously with each other.
Many runway looks at renowned Fashion Week shows all feature tonal layering in some form or another — as it's super sleek and modern. For example, if you're hoping to wear a black linen short sleeve top in the winter, you can layer underneath it a fitted long sleeve shirt in a warm fabric and a similar tone, i.e. black or dark grey. 
Try to keep to winter colours when layering different items with your linen pieces. It will help to make you look more authentic and winter-appropriate. For this, linens in jewel colours and earthy tones would work well.
Layering With Linen Tops
Typically, you'd wear a linen top simply as is, by itself. Yet, for the winter, it's time to combine it with a long-sleeved shirt to give you the warmth you need.
When layering with a linen top, try to choose pieces with contrasting necklines — it provides a refreshing design element. e.g. a boatneck linen top combined with a turtleneck fine wool top underneath.
Don't be afraid to mix different textures and fabrics in the same outfit. It will keep you looking compelling and adds depth.
If you're layering an item underneath your linen top, ensure that the top is fitted and in the bodycon style for a flawless look.
The best shape to consider for linen tops is a loose-fitting silhouette. The greater the contrast between the fit of the two different tops, the greater the style. Our Relaxed Pallocino Top or Hecate Kimono Top would be superb linen to try this technique with — as their oversized shape and kimono sleeves lend themselves perfectly to be layered over the top of a long-sleeved cotton shirt.
Another method for wearing linen in winter is to choose long sleeve tops. Perhaps, you even own some thicker, heavier linens which would suit well for the winter. Pair this with jeans, tucked in with a belt or worn loosely. And voilà, you have yourself a fine looking winter outfit.
Think along the lines of our Gaia Tunic. Or our Ragazzo Shirt with a simple cami underneath and a pair of high-waisted jeans — splendid.
A versatile closet staple for the winter that most of us have is a long woollen cardigan. Instead of trying to run away from the cold, embrace the cosiness aspect that the winter months bring — and cocoon yourself in the warm embrace of wool.
Pair the cardigan with a fitted linen top or a super elegant cami, like our Tie Knot Cami Top. To boost the warmth factor, opt for a longer length cardigan whose hemline trails past the hips.
Wearing Linen Dresses In Winter
Linen dresses are an effortless way to attain elegance. The tailoring and cut of the linen fall beautifully on the body — making it suitable for all different silhouettes & sizes. As an added bonus, easily transition from a day doing errands at the farmer's market to a fancy dinner with the ladies.

So why leave such a classy, versatile item locked up in your closet during the winter? Instead, take that pretty linen dress out for a spin. And we'll show you how.

To be a little chic and a little edgy, all at the same time, try wearing a linen dress over a fitted top. Very 90s. And adding some nostalgia is always a fun!
For those chilly days, slip on a linen dress over a pair of warm leggings or tights. You'll be simultaneously comfortable and fashionable. An outfit like this works incredibly well with tunic-style dresses, like our Calliope Tunic.
Why not combine a classic double-breasted wool coat with a linen dress? You'd never think twice about combining such a coat with a cotton, silk or wool dress — and it works just as well with linen. Remember:
the longer the hemline, the warmer you'll be
for a more formal look, combine the coat with a more structured grand style of linen
Our Safari Wrap Dress, Rhodes Layered Dress or Hera Drawstring Dress would be perfect additions. To be particularly daring and extravagant, you could pair them with a magnificent shearling or faux wool coat. The contrast in textures and styles will add glamour.
To dress up your linens, select pieces made from premium quality natural fibres of a very fine variety. The finer your linen, the more it will almost glisten like silk and look incredibly classy.
Wearing Linen Pants In Winter
A beloved linen pant is a wardrobe must. Offering the ultimate in comfort with a flattering silhouette — it's almost unrivalled! And you definitely don't need to part with your favourite pair during the wintertime. Here are a few styling tips that will help make the transition smooth. 
Enhance the warmth factor by styling winter accessories with your linen trouser. These could include:
knee-high socks & tights (to be worn underneath) or
an ankle boot worn with a cuffed linen
Tights under pants can sometimes be uncomfortable, with them constantly needing to be pulled up, yet knee-high socks made from wool are a good compromise.
Layering with warm pieces on your top half can also be a good strategy. Pair a linen trouser with a chunky woollen jumper of your choice — and you're ready for the winter deluge. A solid casual combination is a white woollen sweater with a khaki green coloured wide leg linen pant.
If that's not enough layers, let's up the stakes. With the addition of a jean jacket over the woollen jumper. Or even a parka.
Choose a pant that gives you the best of both worlds. That would be linen blended with another textile, like a cotton or a cashmere. You'll be gifted with extra warmth. A perfect linen pant to wear for winter is our Piega Trouser, a classically tailored 50% linen and 50% cotton blend.
Recap: How To Wear Linen In Winter
For anyone time-poor, here's a short recap of how to wear linen in winter — with a few simple tips. The quickest answer is layering. Layer, layer and then layer some more until the desired warmth effect is achieved.
When layering with linen remember to:
keep the outfit more or less in the same tone — it creates an elegant,

 

coherent look
wear leggings or tights with linen dresses — always an easy way to
incorporate the fabric into your winter style
if layering shirts, turtleneck sweaters underneath a linen piece, ensure it's

 

tightly fitted
pair your linen trouser with winter accessories (knee-high socks, ankle

 

boots)
We hope we've given some easy styling tips as to how to wear linen in winter. If you're as big of a fan of linen as we are, there's no reason to part ways with it