Tips And Tricks For Ironing Linen Clothes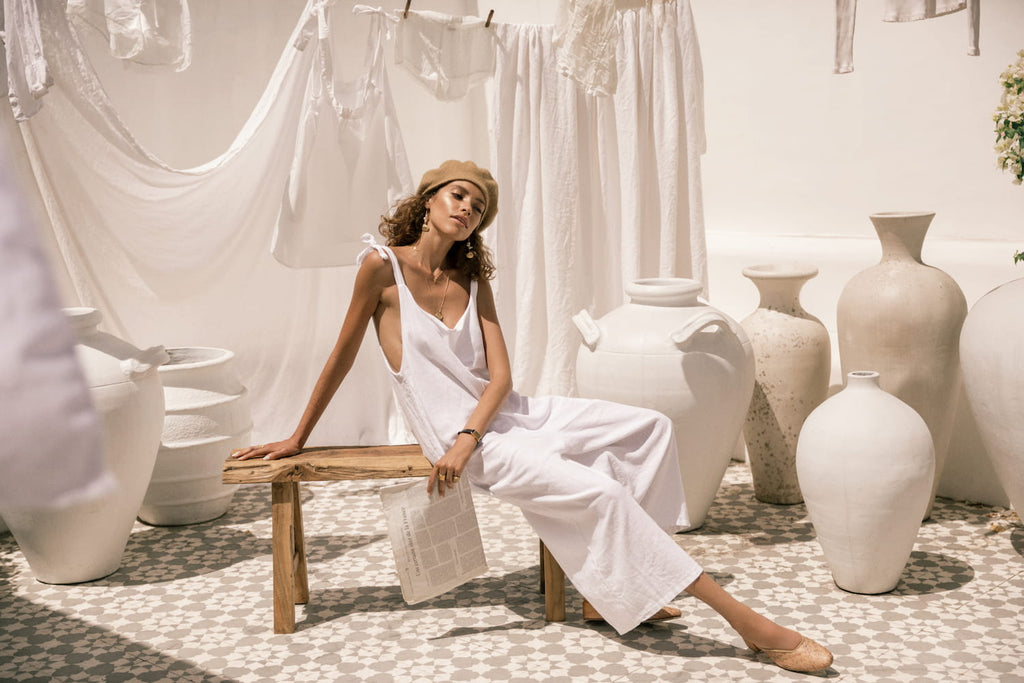 Love the breathability and lightness of linen? And also wish for the smooth crispness of a perfectly ironed shirt? You can have it both. 
Let's explore a few simple tips and tricks on how to iron your linen clothing. It's simple, we promise. 
Yes, linen is known for its unique texture and relaxed, rumpled look. Why? It's a premium natural fabric crafted from flax plants fibres. 
These have very little elasticity, which means that if wrinkles or creases form, the fabric doesn't easily spring back into its original shape. 
Yet, it's all part of the effortless, lived-in charms of linen that we all love. 
For those that long for a smoother, crisper finish, it does mean you'll need to bring out the iron. 
Luckily, ironing linen is not too complicated, and as long as you follow some super-easy basics, you'll be amazed at the results. 
What You Need For Ironing Linen 
Luckily, it's not too complicated when it comes to linen. The tools you'll need are most likely things you've already got at home. 
Spray Bottle

— fill any spray bottle with clean water and use it to spritz and lightly dampen your linen before ironing. It will make smoothing out any creases much more painless. 

Steam Iron

— it's vital to have a top-quality iron, not just for linen but any fabric. The key to success when ironing linen is to both have high heat and a good deal of steam. An added bonus is a spray feature on your iron for those areas that need a little extra dampness. 

Strong Ironing Board

— try to stick to steady, even strokes when ironing your linen. So while not essential, an ironing surface that's not shaky or small will be a big help. 

Pressing Cloth

— it will give extra protection to your beloved linens by creating a buffer between the hot iron and the fabric. It will help to prevent the flattening of the linen fibres and shininess. Of course, make sure it's clean. 

Spray-on Starch or Fabric Sizing

— if needed, use it on tricky areas like collars and cuffs that you'd like to make smooth and crisp. The starch will also help to protect from any stains. Just make sure you always test out on an inside hem before using it. 
How To Iron Your Linen 
Sometimes the charming crumpled look of linen works well and fits the occasion. So when can you skip the iron? A relaxed summery blouse on a lunch date with friends is just the right balance of effortless elegance and not-trying-too-hard chic. 
Yet when you're looking for your linen to be pressed and crisp, it's time to get the iron out! It shouldn't be a daunting task. If you follow a few simple tips & tricks for ironing your linen clothing, you'll be successful. 
Before you start ironing,

give your linens a good spritz

with plain water. Give extra attention and water to thicker areas like shirt collars, cuffs and pocket flaps. Wait about 5-10 minutes for the fibres to absorb the moisture. 

Turn your steam iron to the highest heat

or linen setting, and you're ready to begin. Be careful, ensure your iron's faceplate and water are clean to prevent any ugly stains. 

Keep the iron moving in smooth and steady strokes

. Don't stay in one spot for too long to avoid scorching your linen. 

Usually iron your clothes on the wrong side

or inside out to prevent damage. Or use a pressing cloth. 

If there's any embroidery on the linen,

iron the embroidered areas first

. Otherwise, begin with the thicker areas like the collar and cuff etc. 

If stubborn creases and wrinkles are giving you problems then try to dampen the area with a little more water. It will help make the fabric more pliable and will ensure a smoother finish. 

Good news, the ironing is done! Now

hang the linen on a padded garment hanger

and allow it to cool down completely before putting it away. (try to resist the temptation to fold your freshly ironed linen, it will create crease lines). 

Finally,

store it in an uncrowded area

to minimise the chance of wrinkles. 
Tips For Washing Linen And Reducing Creases 
There are many little tricks you can do that will help keep the wrinkles in your linen at a minimum. As always, when it comes to washing your linens, follow the care instructions on your garment tag, although usually, a gentle wash in cold water works well. 
Of course, if it says "dry clean only", you can't argue with that, and we recommend following the instructions. When it comes to our LUXMII linens, please click here for general garment care. Now for the washing tips: 
Don't overload your washing machine

. It will result in lots of wrinkled clothes. Instead, give your linens plenty of room to move. 

Remove your washed linen clothing quickly

from the washing machine. Creases won't have any time to set. 

Give handwashing a go

if you really want to decrease the amount of balling, twisting and tugging the fabric will endure. 

While quick & convenient,

it's safest to skip the dryer

. The high heat may cause the fibres to shrink together and break (yikes!). Linen is best dried lying flat or hanging from a padded hanger. Gently work into the seams and hems of your linen clothing while it's still wet to smooth out any creases. 

To take good care of your linen and keep its high quality over time,

use only mild detergent and never bleach

. 
Tricks To Avoid Ironing Linen 
If you're not a fan of the iron or are short on time, there are plenty of ways you can avoid ironing your linen clothing altogether. It's not the end of the world. And you'll still end up looking like an effortlessly elegant style queen out and about on her Mediterranean summer holiday. Here are a few simple tricks to try: 
Use a fabric steamer

. Especially a great idea when you're travelling. Your linen will not be perfectly crisp and pressed, but it will remove all the heavy wrinkles and creases. 

In the summer, it's so easy. Just

spritz your favourite linen

clothing with a little water and flatten it down. Any wrinkles or creases will quickly disappear. Great if you're on the go. 

Wear your linen; it improves with age

like a good fine wine. The more you wash and wear it, the softer and more supple the fabric will become. 

Choose a linen blend

for more wrinkle-prone pieces like trousers. It's much more forgiving. And will result in extra elasticity and give an overall smoother finish without any ironing. Here are some of our LUXMII linen blend favourites:

Piega Trousers

&

Erato Wide Leg Linen Pant

. 

In-between wears,

store your pressed linen clothing on padded hangers or laying flat

. Your linens will be perfectly crisp and ready to go as soon as you need them. 

Embrace the relaxed look

. Linen's drape and texture add to its charm and authenticity—it's what sets the fabric apart from all the others and makes it special. Celebrate the uniqueness. 
Conclusion: Ironing Linen Clothes
You can have it all with linen— unique textures, unparalleled breathability, and a smooth crispness. Sadly, ironing linen clothing is sometimes seen as a monumental task. Yet if you have the correct tools and remember a few simple tricks, you'll have no problems. 
Here's a quick summary of the essentials when it comes to ironing linen successfully: 
Iron your linen clothing when it's damp

. It will make smoothing out any creases simple. 

Use a steam iron

. In order to iron linen the easy way, you need high heat and steam. 

Take care

with your beloved linens. Iron them on the wrong side to minimise any damage. Or use a pressing cloth. Be especially careful with darker coloured linen, so its colours don't fade. 

Don't fold your freshly pressed linen

. Instead, store it on padded garment hangers or lying flat. It will prevent any creases or wrinkles from setting stubbornly in place. 
We hope we've given you plenty of tips and proven just how easy ironing your linen clothing is. Maybe you've even got a few special tricks of your own. Either way, enough ironing, it's time now to enjoy your life and take your linens along for the ride.