What To Wear With Wide Leg Linen Pants: Outfits For Work And Play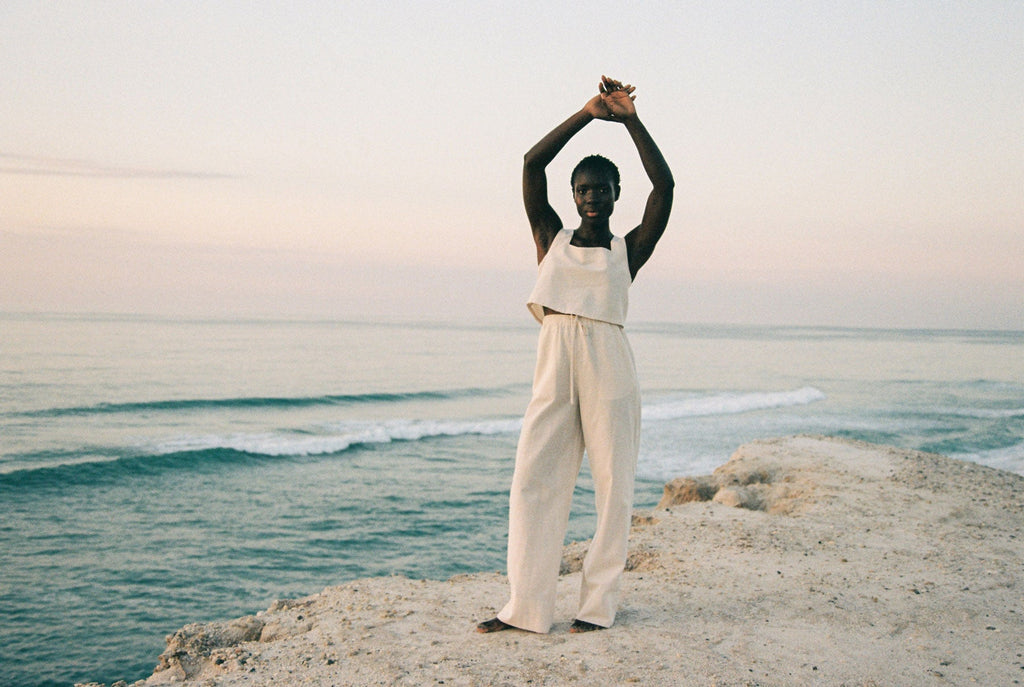 Discover what to wear with wide leg linen pants and look perfect every time.
Are you a fan of easy, breezy pants you can simply slip on? So are we.  
So that you get plenty of wear out of the pants in your closet, we've got stylish outfit ideas for you to try. They'll leave you looking flawless, whatever the occasion, at the office or on the weekend.
Effortless yet elevated, wide leg linen pants are super comfy and can be dressed up or down without much fuss. Live in yours in the warmer months. Or with smart styling, they can also work in the wintertime. Find out how to wear linen in the winter with our blog post.
Stuck on ideas? We've got you sorted with our stunner outfits that'll show you what to wear with wide leg linen pants. You'll have new, exciting ways to wear your favourite piece again and again.
How To Find The Best Wide Leg Linen Pants
Before we get to the ideas, let's focus on the pants. Obviously, they're the key to creating a successful outfit. 
When it comes to wide leg linen pants, structured styles or floaty palazzos are the most popular. If you're looking for a more formal, polished look, tailored options are usually the way to go. While floatier styles often double as resort wear or work better for evenings.
There's a few crucial things to look at when searching for the perfect wide leg linen pants:
what's the width of the leg?
what's the best length?
stick to high-waisted styles
Double Check The Width
The wider and more skirt-like the pants, usually the more casual the look. Think free-spirited fun. Also, if you're looking for a fashion statement, the bigger, the better. 
When you're opting for wider silhouettes, it helps to keep the proportions in balance. Making your top half sleeker is a great place to start. Going for a simple fitted tee or tucking in a shirt is a simple way to balance out the look.
For the most versatility, go for wide leg shapes somewhere in between the extremes. A wider take on straight leg trousers works well and is still elegant and wearable.
What's The Most Flattering Fit?
It's rare to find wide leg pants that aren't high-waisted, by far the trendiest and most flattering cut.
Why? They help balance out the width of the legs and also give the illusion of a cinched-in waist.
So, when putting together your outfits, try to style in a way that celebrates a high waist. Most of the tops that suit this style are cropped or otherwise tucked into the pants.
It's up to you what kind of waist you'd like. For those after comfort, then obviously, stretch waistbands or drawstrings are a perfect choice. Or opt for a button-up waist for more formal occasions and to give extra structure and tailoring to your looks.
Now that we've found the best pants, it's time to show how versatile they really are. Let's create some killer outfits you can add to your weekly line-up. Find out what to wear with wide leg linen pants below.
What To Wear With Wide Leg Linen Pants For PLAY
Wide Leg Linen Pants + Matching Linen Top
Matching sets are everywhere right now. And it's easy to see why you simply slip on and go and instantly look fashionable. As a bonus, there's no need to worry about colour matching.
Chose a relaxed boxy fit for your linen tops to balance out the flowy wide leg linen pants. Try this outfit in always classic white or any other earthy neutral works well too.
With linen on linen, you can't lose. Cut from lightweight, natural fabric. It's an everyday look that'll keep you cool but at the same time protected against the sun.
Dress up the look with dainty gold jewellery and leather slides, and you're sorted for dinner plans. Or match with a wide-brimmed sun hat and a cute woven bag for running errands and coffee catch-ups.
On the plus side, this is an easy look that you can wear from season to season. Switch up the footwear to trendy sneakers to work for cooler weather. Or wear a tank top underneath for an extra layer of warmth.
Wide Leg Linen Pants + Summery Bra Top
Picture balmy days lounging at a rooftop bar with this chic little ensemble coming along. It's all things fun. Plus, nothing's fresher than all-white.
This breezy linen outfit metaphorically transports us poolside or somewhere fabulous in the Mediterranean. Yet it's so easy. All you need is airy, wide leg linen pants and a super-cute bra top.
The proportions are balanced, and the bra top creates the illusion of an even longer silhouette. Can't complain about that. 
Glam it up with a wedge for the night. Or go for a seaside look with strappy flat sandals for the day. For some extra sparkle, give stacked pearl bracelets a try.
Wide Leg Linen Pants + Matching Linen Vest
Suits are such a snazzy part of every modern woman's wardrobe. The current trend is more fun than ever, with the waistcoat now having a major moment.
A pants & vest set is even better when it's cut from lightweight linen. It gives the normally structured suiting trend a more relaxed feel. Don't even get us started on how airy it feels on the skin while you're on the move.
Again, because of its cropped, tapered shape, a vest is the perfect companion to wide-legged pants. There's a balance, and it creates a cinched waistline.
This sleek look is versatile and can work for both business and fun. Depending on your work environment, it could wow at the office. Or match it with flat sandals and be ready for a lunch date. There are plenty of possibilities.
Pair with a matching blazer to adapt this chic set for the cooler temps. The silvery grey colour is a sophisticated take on neutrals that's multifunctional.
What To Wear With Wide Leg Linen Pants For BUSINESS
Wide Leg Linen Pants + Linen Button Down Shirt + Belt
Once you've nailed this look, you'll be wearing it again and again. It's the quickest way to achieve an understated vintage vibe. Plus, it's oh-so French.
The linen pants we've chosen feature front pleating that creates a flattering shape and adds a dressier feel to the entire outfit. Style it with a narrow belt, and you'll look impeccable.
Black linen pants for the office can get a little monotonous. So we've gone a little outside the comfort zone with an earthy tone that's modern but still looks professional.
When we're after something that goes with everything, it's all about a relaxed linen button-down. It doesn't get much easier or more elegant than this seasonless wardrobe essential. Here, it's tucked into linen trousers for extra polish.
Don this number for work or even for the weekend with a simple switch-up of footwear. Lace-up some brogues or slip into flat slides for the ideal outfit when you're out and about. For business, pair it with block heels or pumps.
Wide Leg Linen Pants + White Pretty Blouse
Don this number for work or even for the weekend with a simple switch-up of footwear. Lace-up some brogues or slip into flat slides for the ideal outfit when you're out and about. For business, pair it with block heels or pumps.
You can't go wrong with a floaty linen blouse for the office or whenever you want to make a good impression. Plus, when it's in classic white, it's hard to find bottoms it doesn't match with.
A soft ¾ bishop sleeve and square neckline add a feminine touch to the blouse. When pairing with wide leg pants, make sure the top's cropped to create a silhouette that looks fab on every body type.
Just to show you something different, we've chosen a slightly shorter version of wide leg linen pants. They work well because of the dramatic wide leg. A little extra space calls for a gorgeous shoe that wants to be seen.
We suggest ballet flats for a more demure, professional look. Or try strappy gladiator sandals when you're ready to make a fashion statement and enjoy life in style.
Conclusion: What To Wear With Wide Leg Linen Pants
Outfits that include wide leg linen pants scream easy elegance. We can't wait for you to try some of our suggestions on the street and in real life.
But because of their unique shape, they can be a little trickier to style. So here's a quick recap of what to wear with wide leg linen pants. These are the key things to keep in mind:
Choose tapered tops. To keep the proportions of an outfit balanced, go for shorter, more fitted tops to match your wide leg linen pants. Or tuck in a longer shirt.
Linen on linen is a winning combo. If you're struggling with ideas, keep it simple and style linen pants with a linen top. It's a guaranteed way to look put-together and refined. Plus, it's super lightweight.
The wider the leg, the higher the waist. For the most flattering fit, we recommend sticking to this advice. If your pants have an exaggerated wide leg, usually go for a high waist. It keeps the proportions of the whole look in harmony.
Remember, the outfits above are just recommendations, not strict rules. If you've got your own creative take on what to wear with wide leg linen pants, that's wonderful, and we'd love to see it.